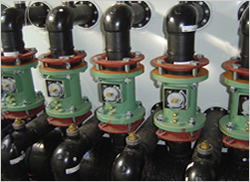 Mechanical Engineering is a cornerstone of our company. Services include:
HVAC design for healthy, energy efficient heating ventilation and air conditioning systems.
Ground Source Geothermal Heating and Cooling Systems.
Energy Recovery Systems.
Building Automation & Temperature Control Design.
Plumbing and Piping Design.
Fire Protection Design.
Central Plant design for campus heating, cooling and distribution systems.