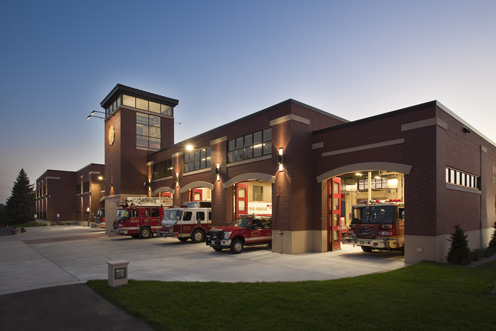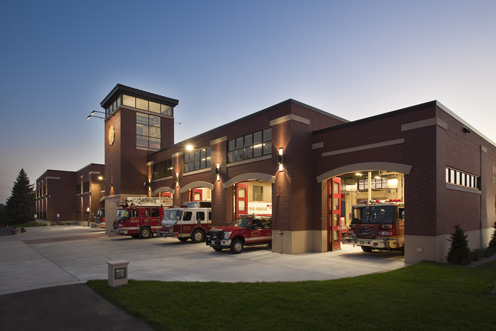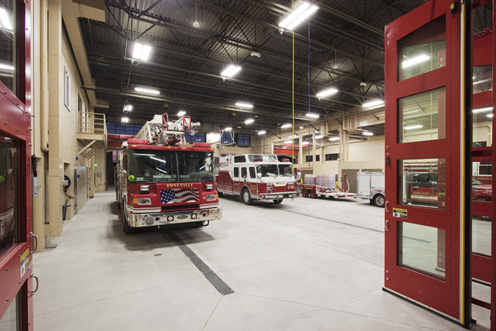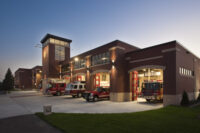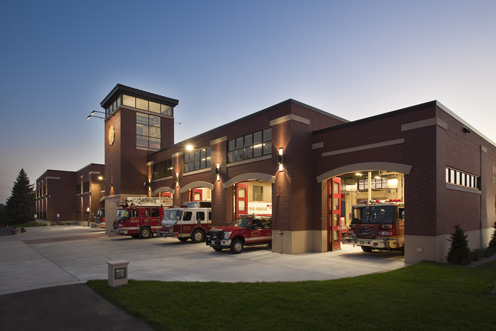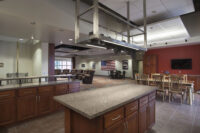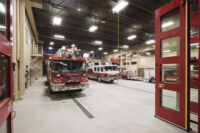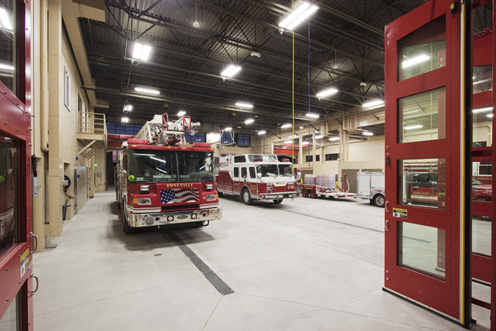 Location:  Roseville, Minnesota
Total Cost:  $9,000,000
Square Footage:  30,400
Completed:  2013
In 2012 the City of Roseville constructed a new state-of-the-art central fire station to replace three small outdated community fire stations. The new station consolidates all of the city's firefighting functions into one central location and provides a greatly improved base for emergency medical response.
A significant portion of the building was designed specifically for emergency response training. Firefighters can practice scaling and rappelling the building exterior, laying hose lines from standpipes in the stair towers, ladder truck and balcony training, and a variety of confined space entry rescues. All of this makes the new Roseville facility one of the most advanced fire training stations in the country.
Energy efficiency is one of the key factors sets the new Roseville facility apart from other fire stations. Heating and cooling is provided by an innovative heat pump system that uses waste heat condenser water from the nearby municipal ice arena as a heat source. A fluid cooler provides heat rejection for water-to-air heat pumps. Hot water is produced by water-to-water heat pumps for the in-floor slab heating system that provides space heating and keeps the apparatus bay floors dry. An energy recovery unit captures heating and cooling energy from exhaust air.
Engineering Design Initiative served as Mechanical and Electrical Engineers-of-Record for the new fire station. The building project included the following innovative features:
High efficiency water-to-air heat pumps for heating and cooling
High efficiency water-to-water heat pumps for heating
In-floor radiant slab heating
Dedicated outdoor air energy recovery unit
High efficiency standby condensing boiler
High efficiency domestic hot water heaters
Water conserving plumbing fixtures
Energy efficient LED lighting and lighting controls
Standby electric power generator